Femme Jam
Femme Jam
Qvarken Game Lab is collaborating with Arctic Game Lab to introduce to you: Femme Jam; a normfluid game jam celebrating the voices of women (cis, trans) nonbinary and queer people.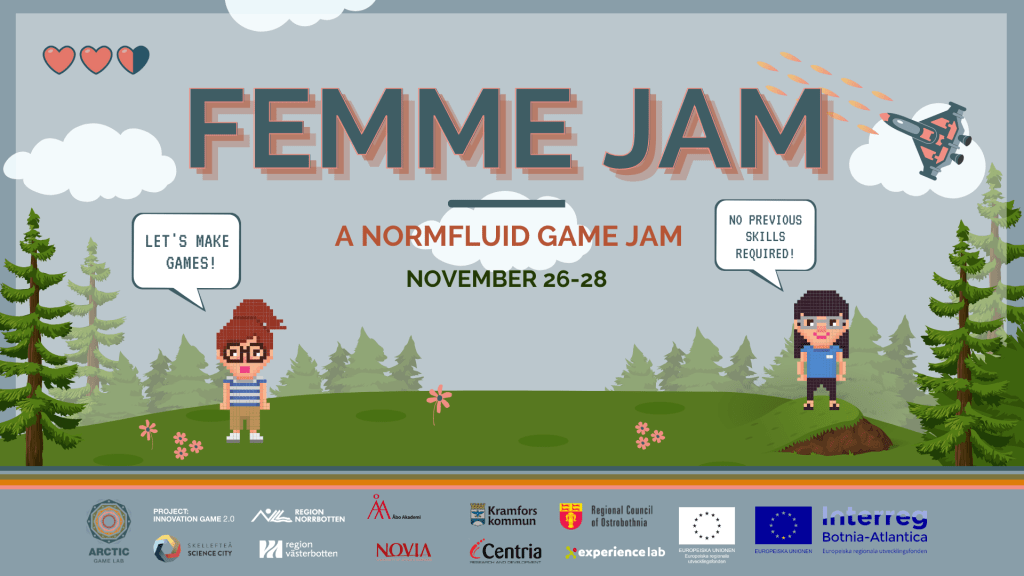 This game jam is suited for everyone interested in creating games, both digital and physical games, no previous experience needed. Curiosity is all you need!
The jam takes place at Åbo Akademi Experience Lab in Vaasa Friday 26.11 (16-22), Saturday 27.11 (10-22) and Sunday 28.11 (10-16)
This jam is organized simultaneously, online, with people in Vaasa, Pietarsaari, Ylivieska and Skellefteå, Sweden.
The theme is SUPERPOWERS. If you´re not sure about the Femme jam, maybe attend one of our online pre-events and learn more?
10.11 Content Creation in Games / Game Jam
17.11 Unity basics for beginners
Here you can register for the pre-events and the Femme Jam:
https://survey.abo.fi/lomakkeet/13968/lomake.html?fbclid=IwAR08yCHnCF2jk-6gNIslDOxtPN2kb2PlPYCL4yShEStXHTh_W5LUq9LxK-8
If you have questions, don´t be afraid to ask! Send an email to one of our game jam hosts: Ludwig Sandbacka (he/him) ludde.sandbacka@gmail.com or Matilda Ståhl (she/her) matstahl@abo.fi
---
But if you are afraid to ask here are some questions already answered:
What is a Game Jam?
A game jam is an opportunity for game enthusiasts and other creatives to come together and create games, be it digital, analogue or just playful experiences. This is usually done over a weekend or online for a set number of hours. A game jam starts with the formation of teams and the spawning of ideas based on the theme of the game jam.
The theme can be anything, in the case of this game jam "Superpowers". To avoid stress and anxiety for new jammers, the teams during Femme Jam will be assigned by the hosts according to each jammers interests and talents specified in the registration form.
If the jammer applied with a team already in mind, that will be taken into account.
What is Femme Jam?
Femme Jam is a normfluid game jam that aims to celebrate women (cis/trans), non-binary, fluid and queer voices in the art of game-making. Everyone is welcome to attend, no queerness or womanhood required, but diversity and open-mindedness is at the core of this game jam.
The jam is arranged by Qvarken Game Lab in collaboration with Arctic Game Lab in Vaasa, Pietarsaari, Ylivieska and Skellefteå, Sweden.
Do I have to know anything about games to jam?
No! But it does help. You don't have to have any experience with game-making however. Anyone and everyone can contribute ideas and we all have some skill that might be useful for a team.
If you want to make a digital game having a programmer on the team is necessary to some extent, but other skills are useful too.
Writing, drawing, musical talents, puzzle solving skills, general knowledge, humour or a playful attitude can all be assets in making a game, analogue or digital. How to be a good team player is really the only thing you need to know if you want to jam.
What can I expect from attending Femme Jam?
You can expect to be making games in an atmosphere of curiosity and acceptance. By attending Femme Jam, we hope to give you an inclusive and positive game jam exprience which you can bring to other game jams in the future.
By the end of the game jam, you will have a game concept, a game prototype or even a playable game. 
---
Tips & Resources
Game Engines
If you want to make a digital game you will need to use some kind of game engine. Game engines are to games what word processors (like Microsoft Word) are to documents.
The most common one is Unity3D and it is completely free to use. With Unity you can make any game you can think of and there are tons of tutorials to help you along. Unity can have a pretty steep learning curve however, and some coding in C# is required so checking it out before the jam is recommended.
Other simpler or more specialized engines also exist like Scratch, which is aimed at game-making beginners and 2D games.
If you want to make more of a choice based narrative game, a choose your own adventure type of thing, then Twine would probably be a better option to use or Ren'Py which is designed to make visual novels. 
Art 
Regardless if you are making a digital or physical game making it look good is important and there are some amazing and free programs that can be used.
Do you want to make pixel art and pixel animations? Then Piskel is the program for you. It is browser based and very easy to use. Gimp is also a powerful tool that can handle all your 2D needs along with Krita and Autodesk Sketchbook (which also works on phones and tablets). If 3D is more your style there is really only one option: Blender. It is free, good and integrates with Unity beautifully. 
Sound
Something that is often overlooked is the importance of good sound in games. The internet is full of free music and sound effects that can really push a game to the next level and if you want to make your own: Garageband, Audacity and many others can help you record and adjust sounds as you see fit.
The great motivator and the great enemy of any game jam is time. You only have a certain amount of hours and you want to have a game at the end. So here are some things to keep in mind:
Keep it small and keep it simple.
Talk less, do more.
Try to play the game you're making, a lot.
It should be fun, not a death march.
Communicate with your team.
Focus on the basic mechanics first, you can make it pretty and perfect later.
Don't argue over ideas, argue over playable mechanics.