UCD
User Centered Design (UCD)
The last two decades we have been working within the user centered design framework, researching, designing, and testing different interactive products.
What is User Centered Design?
It is an iterative design process that focus on the users and their needs in each phase of the design process.
User Centered Design or UCD makes sure that you design and develop products/services that the users needs, wants to use and meets their requirements and your clients. UCD has its roots in the field of Human-Computer Interaction and traditionally refers to interface design of technology, systems or services. There are five principles of UCD:
User Centered Deign have five principles:
A clear understanding of user and their task requirements.
Incorporating user feedback to define requirements and design.
Early and active involvement of the user to evaluate the design of the product/service. (prototype and usability testing)
Integrating user-centred design with other development activities.
Iterative design process
User-centered design improves the user experience and it can be applied to almost any product or service development on any platform. The UCD process helps, not only developers but also business managers, marketing, designers and researchers to understand users' needs and preferences regarding features of a product, task, goals, user flows, interface, design etc.
Ultimately, being user centered is the most important requirement of user experience and its design. The process and methods of UCD should exist throughout and on every touchpoint a customer or user have with a product or service. Every interaction a user have should be analysed, well design and developed. What the users say and do matters!
In addition to our long experience in the field and our academic credibility, on our staff is also three Human Factors International certified Usability analysts, a guarantee of proficiency in UCD and necessary design skills.
These are our five steps to user-friendly products: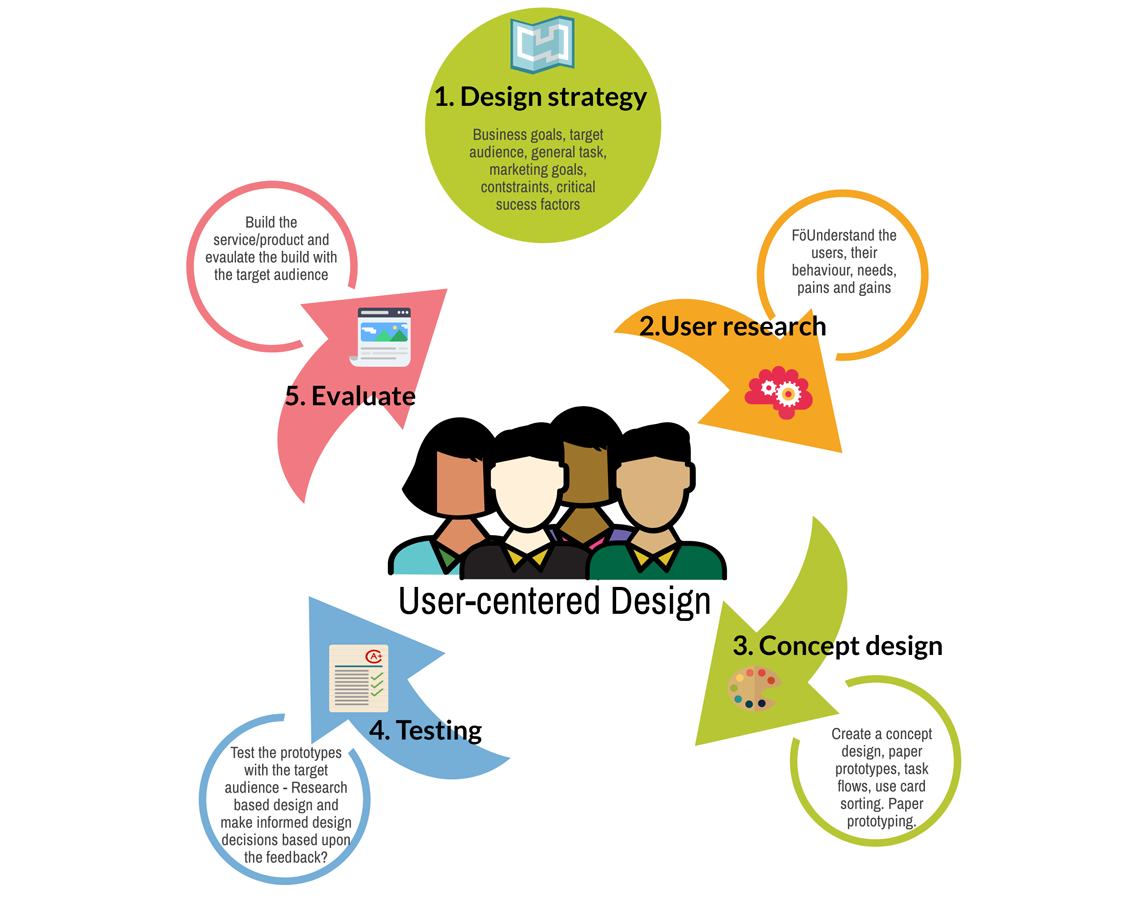 1. Design Strategy
"What are we creating, and for whom?"
Design strategy refers to an integrated planning process that examines the relationships between how design and business may complement one another. Simply put, the goal is to merge the business objective with creative solutions.
---
2. User Research
"How are we going to do it, how should the product work, what do the users think?" – Identifying and defining user requirements and experience design goals. Understanding and empathizing with the end-user and the context of use .
---
3. Concept Design
"Is the concept design good?" – Designing and developing a prototype solution.
Concept Design is an early phase of the design process. A phase that draws rough lines of function and form, including the design of interactions, experiences, processes, and strategies. The concept design is bases upon the user research and design strategies – and how to meet them with products, services, and processes. It includes paper prototypes, concept sketches and models of the product/service.
---
4. Testing of the concept design (usability tests)
Usability testing lets the design and development teams identify problems before they are coded.
Simply put – if you make change to the design late in the process, then it will typically cost ten times more than if you changed it during the requirements stage. That's why it's important to start with prototypes and to involve the users in testing of the prototype.
Here are some other benefits you could gain by testing …
---
4. Evaluation
Evaluating the user experience (UX) of the ready to launch or already launched product/service.
User experience encompasses all aspects of the end-user's interaction with the company, its services, and its products.

Don Norman & Jacob Nielsen
Usability testing concentrates on the UI (user interface) and its quality : easy to learn, efficient to use, pleasant, and so forth. User experience is more than that, and involves everything a user does related to the product, the whole journey with the product/service including how it fits into their overall workflow and the steps before and after the product/service is actually in use.
Additionally, the User Experience covers how those interactions will change over time as the customer's usage evolves and the product and company change.
---